Kategorie: Uncategorised
Geschrieben von

Sarah Buron

Zugriffe: 22990
Charrette 2015

Charrette Book 2015



The Future of Food Sustainability



Download the full report on the Summer University: Charrette Book
Objectives

During the two weeks in Emmendingen the students were introduced to a human ecological framework around food systems.

Concepts of sustainable food, food security, and meals were explored with respect to meeting ecological, health, social andcultural criteria. They were exposed to relevant subject matter, theoretical concepts and research methodologies in a Real World Lab.

Method

Practical learning took place within a transdisciplinary group project with the goal of designing a sustainable food map for the town and the region.The group work is meant to familiarise students with the practice of the businesses on the one hand and introduce them to a collective workshop environment.

The Real World Lab takes the form of a Charrette, i.e., a workshop open to the public, giving the cooperating businesses and interested citizens the opportunity to become involved in the study process. As work progresses the student groups showed interim results and gave a final presentation.

Methods where used:

-Project experiential learning

-Visual representation

-Real world Lab

-Collective workshops

Experienced faculty members from both DGH and COA worked with the

students to guide their learning, while respecting Individual interests and creativity and encouraging students to self‐organize.

Action

During the first phase of the program we visited a wide range of local sustainable food enterprises related to food production, food marketing and trade, food consumption including meal preparation, and food waste. Students chose the partners that awoke their interest and formed three working groups.

Each group consisted of two to three students who for their project decided on a self‐chosen problem to investigate together with one of the cooperation partners in Emmendingen.

Each group also analysed the current cultural conditions of this actor in Emmendingen and proposed improvements in terms of greater food and meal security and sustainability.


These results are presented on the following up pages.
Students
Lisa Kasamba, Swaziland

My name is Lisa Kasamba and I am from Mbabane, Swaziland in Southern Africa. I recently graduated from the UWC in Mostar in May 2015. Growing up in a country where approximately 75% of the population practices subsistence farming, my family was no exception. Back home I helped a lot with looking after chickens, watering the garden as well being involved in meal preparations. So I was greatly interested in learning about both the agriculture and meal culture of the global North. Thus this is one of the reasons I applied for "The Future of Food Sustainability" Summer University.

Besides, I was just genuinely curious. Over the past 2 weeks I learnt a lot about food systems and the operations of our various cooperation partners. I had the opportunity to work at Burkhart Winery which was such an eye-opening experience for me since we don't have vineyards in Swaziland let alone wine manufacturers. Other surprising highlights for me were the fact that the smallest berries make the best wine and that beer can be alcohol-free. From this program, I would like to take back home what I've learnt about organic farming. I would also like to impart this knowledge because I deem it important for people to know that it is in their best interest to know what is in their food.
Bianca Massacci, Italy

I`m Bianca Massacci and I`m 18 years old. I live in Sardinia, Italy. I study at a boarding school in Switzerland, canton Bern, called Ecole d´Humanite´. I´m really interested in environmental topics, and that´s the reason I came to this Summer University in Emmendingen. Indeed, I want to study in this field at University. I wanted to learn more about it to have a clearer idea about what to do for my future and for the planet. In these two weeks I worked with Querbeet, a biodynamic farm in Eichstetten. I chose it because I wanted to learn more about agriculture and what could be a good alternative to it. I discovered that biodynamic is a great farming method, and I´ll surely investigate it deeper in the future. This experience was extremely useful and constructive. The people I met and the things I learnt helped made me reflect on the topic and generated better knowledge on environmental issues.
Julie Schmidtsdorf, Germany

I am a 20 year old student from Brandenburg studying "Landuse and Conservation" at the University of Sustainable Development Eberswalde, north of Berlin. Since my childhood I have always been interested in food and the meals you can prepare from different ingredients. A special interest is also agriculture and its different forms. From all site visits around Emmendingen, I became most curious about the Burkhart winery. One reason might be the recognition of Baden as a famous wine growing region. In my university I took a class about organic wine, which allowed me bring some basic knowledge on a winemaker's work. I decided to get involved in the winery group work together with Lisa and Arsa. All of us learned a lot about the whole process and the aspects involved in producing a very high quality wine. Moreover I enjoyed developing my understanding of the whole topic of sustainability, and I am absolutely glad that I joined this summer university in Emmendingen
Arsa Sota, Albania

I have always been interested in knowing more about different food systems. When I first heard about "The Future of Food Sustainability" summer university, I thought it would be a great opportunity to share experiences and ideas, but also learn from people from different countries and backgrounds. During the course I got to learn a lot about food sustainability from the professors but also by visiting many places.

I chose to work in the winery of Mr. Burkhart because I find what he does very fascinating and coming from a country where wine industry is not very developed, I am grateful that now I know more about it.
Anaïs Tilch, Germany

I am 20 years old and I am from Freiburg in Germany. I have always been very interested in our nutrition system and wondering how to make it more sustainable. The Summer University was a great opportunity for me to engage in this topic and broaden my knowledge.

I did my Abitur in 2014 at the Freie Waldorfschule Freiburg Wiehre and spent my gap year in Ecuador, volunteering in a music project. In the next year I would like to study Human Ecology at the College of the Atlantic
Thomas Laschyk, Germany


I'm Thomas Laschyk, 23 years old. I'm a student at the Universität Augsburg in Bayern. I'm studying literature and philosophy and a main focus of my studies are ecological and moral aspects of culture. Since I take great interest in the connection between philosophical ideas and how they can be realised to better the world, I instantly liked Regionalwert AG and Hiß approach. I enjoyed working with Christian Hiß and talking to him as well as read his book and the Convivialist Manifesto.

Ming Wei Low, Malaysia


My name is Ming and I am from Malaysia. Currently I am studying MA(Hons) Sustainable Development at the University of Edinburgh. Food has always played an important part of my life. I forever had an interest to know how food and sustainability can be linked together. Furthermore the current food system has caused multiple problems from environmental and social problems, which is why it is important to learn about a new food system that creates a balance of economic, social and environmental capital.

This is why learning about Regionalwert AG is interesting for us, not only did it teach us about conviviality but also highlighted the practical ways conviviality could be used as a model to base a sustainable food system. RWAG's model to support start-ups, create a common community that has an equal power distribution and promote organic healthy food is one that is unique and is a potential solution to the current food system. Conviviality is a new concept to us and creating a shareholding business structure such as RWAG's has made us want to learn more about it.
Cooperating partners
Emmendingen is a town near Freiburg im Breisgau. The region offers a variety of links to the program, including a long tradition of exceptionally high quality production and processing of foodstuffs. It is a hotspot of biodynamic agriculture – the Demeter Movement. Not surprisingly, it also hosts a Slow Food association. Emmendingen possesses several remnants of medieval gardens and has plans to restore them as historical sites. One of the industrial highlights of the town, the Wehrle‐Werk AG, develops

and builds equipment for energy and environmental technology. It is also exploring the possibility of urban roof farming on its factory buildings. Seven local enterprises and organizations offered themselves as cooperating partners for the group projects.

They include

-Querbeet Demetergärtnerei

-Tafel Emmendingen

-Biomaarkt Waage

-RegionalWert AG

-Rinklin Naturkost, Eichstetten

-Monteziego dairy goat farm, Tenningen

-Weinmanufaktur Burkhart, Malterdingen

-LebensGarten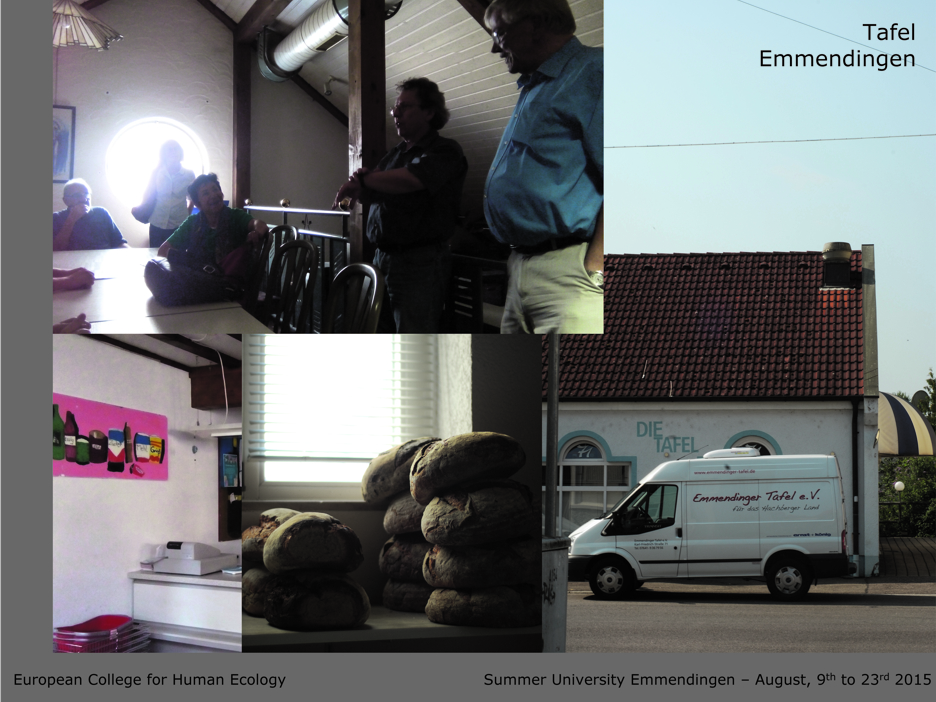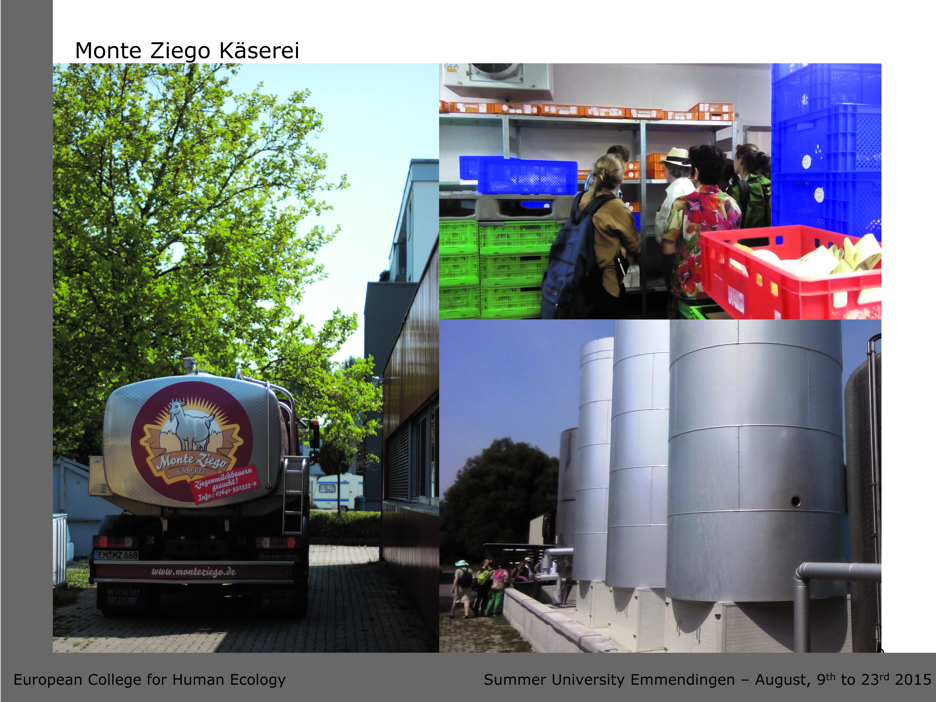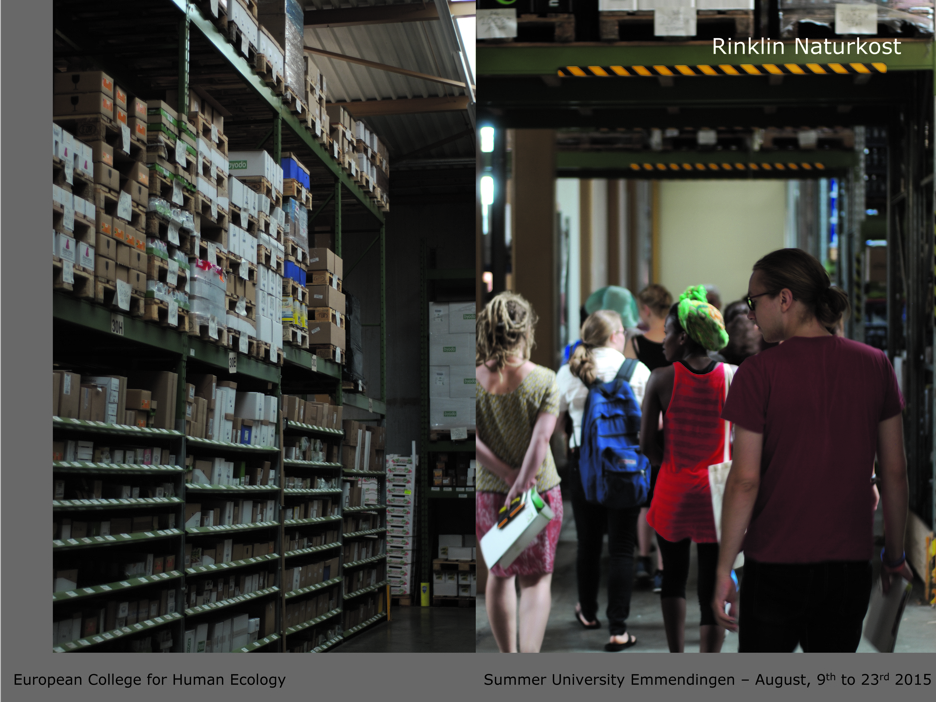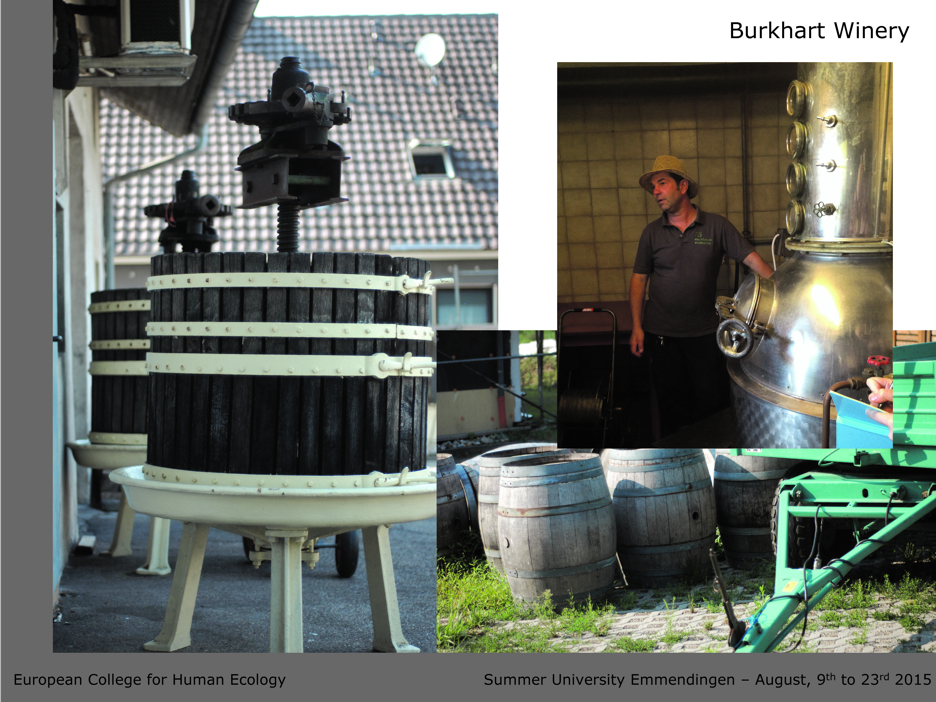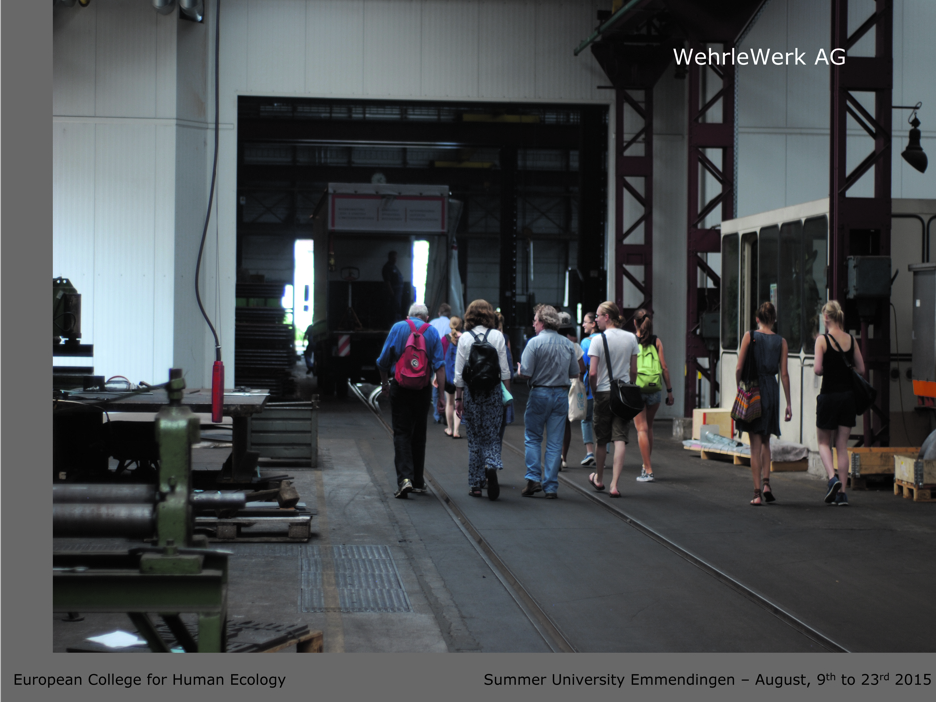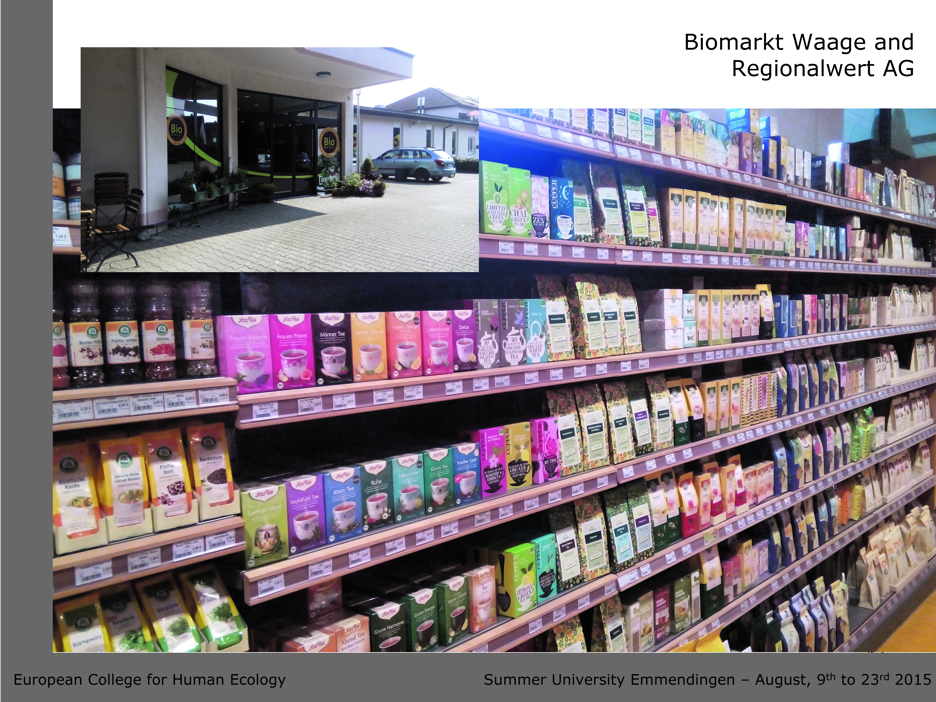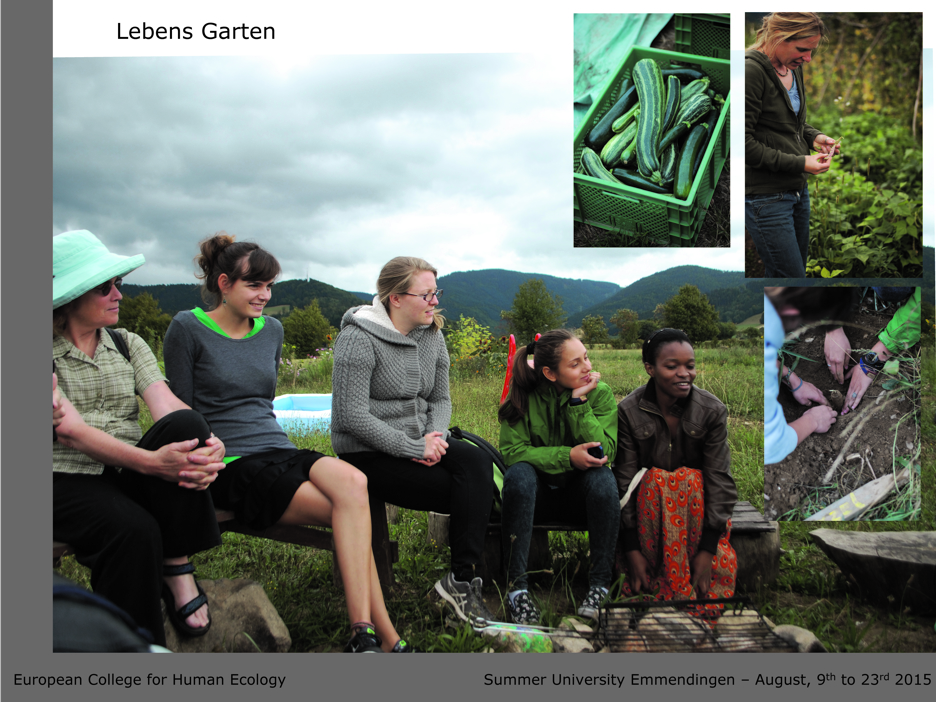 Communal meals were an essential part of the Summer University. Buying local food at the market and cooking together has been the practical application of food sustainability. Students and staff got to know the meal cultures of different home contries. The kitchen at the Karl-Friedrich-Schule was kindly put at our disposal by the municipality.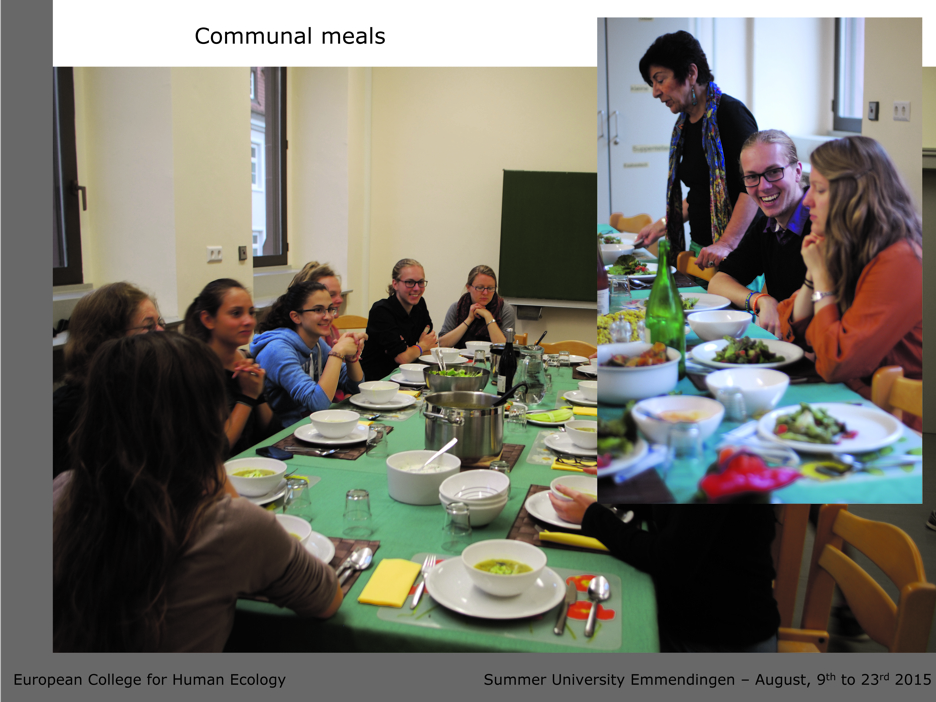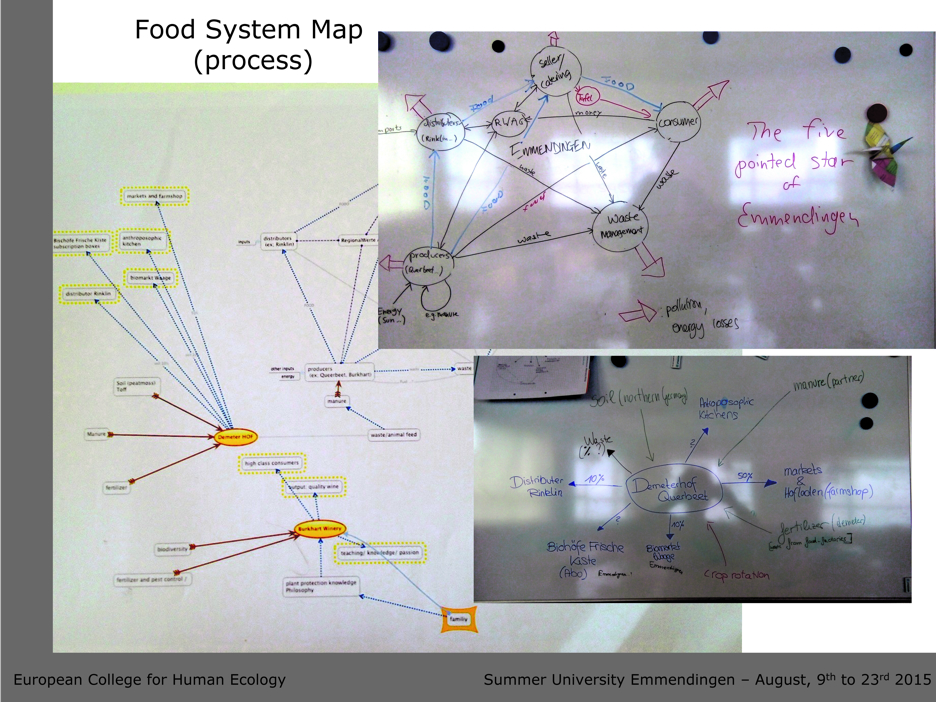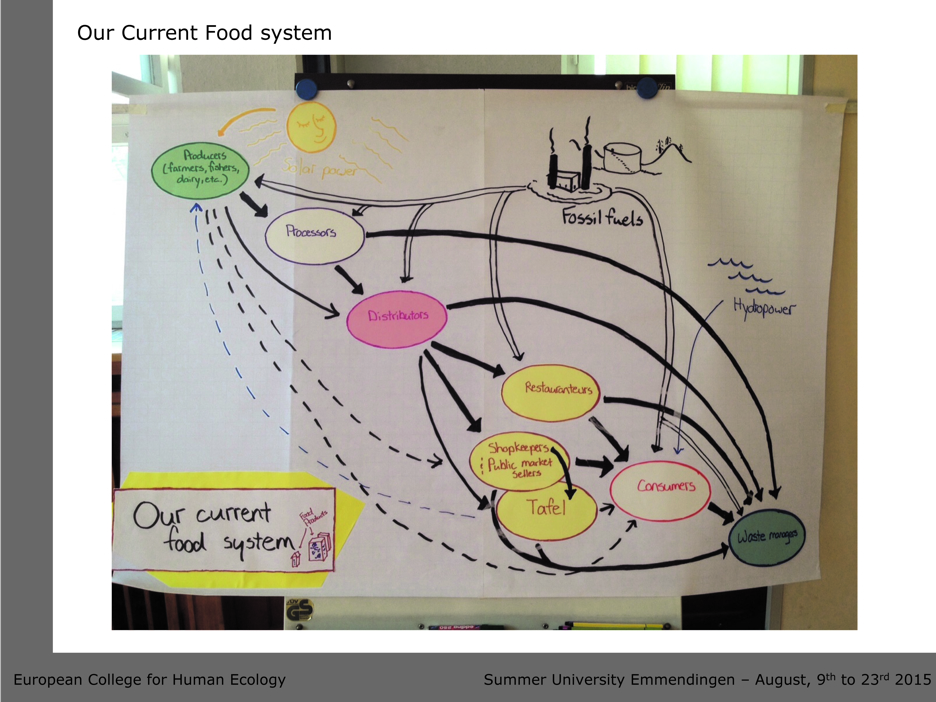 Project Partners Investigation
Regionalwert AG
Our project partner was Regionalwert AG. Regionalwert AG is a local shareholding corporation with the goal of stimulating entrepreneurial ecological action in a local community. Their target is to establish a local, organic, fair and profitable food system and to guarantee complete food souvernity of the population. Practically it provides means of economic capital and distributes it to local and sustainable businesses and establishes a connection between the town and country, producers and consumers and farmers and non-farmers. They envision a kind of "New Local Deal", which provides a plattform and a network for all members of the food chain to meet and coordinate. They want to provide the opportunity to everybody to participate either as entrepreneurs or shareholders.

It started 2006 with founder and C.E.O. Christian Hiß who built the AG around his family businesses and envisioned a better regional economy that reestablishes the connection between the producers and the consumers and gives the enviroment and the working force back the value they truely deserve.

Through several refreshing meetings with Mr. Hiß where he answered questions about what Regionalwert AG does and how it works we stumbled upon the concept of "Conviviality". This term was coined by Austrian philosopher Ivan Illich, which means "a mode of living together (con-vivere) that values human relationships and cooperation and enables us to challenge one another without resorting to mutual slaughter and in a way that ensures consideration for others and for nature." (Convivialist Manifesto, 2014:25) Hiß, who knew Illich personally, wants to convert this ideas into a practical solution.

 

 

 

We asked ourselves how Regionalwert AG and Christian Hiß were able to realise the ideas and concepts of conviviality and explored the original texts of the Convivialist Manifesto. We split the readings between us because several where in german, so those Thomas had to read of course. So Ming analyised what conviviality was and Thomas tried to understand how Regionalwert AG works and what it consist of. In the end we compared our results.

Like all realisations of philosophical ideas RWAG is of course no perfect adaptation. RWAG is not the one solution of coping with all problems we described at the beginning, especially in the short amount of time that passed since its founding. We feel that Regionalwert AG misses some aspects of the political and scientific elements that are part of conviviality, but of course those usually are not realised in a corporation. Also our opinion was that while most parts of the food system are represented in Regionalwert AG one way or the other, the part of recycling of waste isn't represented yet. Hiß told us one of the partners started composting, it is now still one very marginal part. But they of course plan to expand in that area as well. It only depends on people willing with them. What Christian Hiß and the local community achieved so far and are planning to do is a huge contribution to realise conviviality. And also RWAG is still expanding and exploring what lies within its possibilities and may be realised in the future or is already in planning. RWAG is still a work in progress.

It may not be the solution, but it's definitively one example or one step towards how the idea of conviviality can come true. It is a challenge for societies to become a place to rediscover sociability's and solidarity.
Querbeet Demeter Hof
Introduction to our partners

We worked with Querbeet, a Demeter/certified farm in Eichstetten, a small area of southern Germany not far from Freiburg and Emmendingen, our base location. The farm has 18 ha, and it is biodynamic since 1956. The land is divided into 10 ha for vegetables (e.g. tomatoes, zucchini, beans, herbs, carrots), 1 ha for wheat and fruit, and the other 7 ha planted with clover and other legumes in rotation to keep the soil fertile. Moreover, they have a greenhouse where tomatoes, peppers and eggplant (aubergines) are cultivated. Except for the greenhouse, crop rotation is used for all the fields. The farm is almost independent; and, as biodynamic Demeter standards require, it is run in order to complete the natural cycle of nutrients and energy.

Jannis Zentler is the manager of the farm. He rents the land from Regionalwert AG, a shareholder association that encourages small, sustainable organizations in the area. He is helped by 5 to 8 employees, according to seasonal needs. The  farm has a wide range of buyers, from a big distributor, Rinklin (about 10%), to direct sales (50%), to small shops, kitchens and processors (about 40%).

We analyzed our partner considering  its 3 different dimensions: the material culture, social institution and immaterial culture. Our result was:

I.  Material

Plants, seeds, vegetables, water, cow horn, technologies.

II.  Social institution

Organizational structure (manager, workers..)

III.  Immaterial

-Food is crucial for life  -Trust as immaterial Capital -Spiritual aspect of biodynamic

 

Questions:

We started our research without any knowledge of biodynamic agriculture. Our intention was to learn more about the topic and then present it to the city in order to stimulate people´s awareness.We were wondering what is the meaning of biodynamic farming for Jannis. We also wanted to learn about the specific practices of biodynamic farming.

Findings

For Jannis, biodynamic farming means healing the soil, while feeling deeply connected to the whole system in its material and immaterial parts. Biodynamic practices help him feel the connection with the land, its plants and the whole system, not only physically but also spiritually.

A common practice is BD 500, also known as the cow horn. It involves filling a cow´s horn with manure and leaving it in the field for several months. Afterwards, the manure, transformed into compost, is stirred in a gigantic pot of water for an hour, and then sprayed on the field. The slow, relaxing process of stirring helps the farmer to feel the connection with the whole system, in an intimate way. The importance of this practice is to give "the information to the soil." According to Jannis, "it is like homeopathy for the soil." This practice cannot be scientifically proven to be beneficial; it´s something you have to believe in.

Demeter certification requires doing this procedure at least twice a year, but there are many other preparations or techniques recommended but not mandatory. One of them is planting according to the moon cycle; and although many farmers in the area follow this technique, for Jannis it is not useful and would be too complicated to organize for such a big farm.

At first impression, biodynamic practices might sound hard to believe and a useless waste of time if you look at them from a rational, materialistic point of view. For us, it was really interesting to learn about the topic. We realized that it´s not something you can prove, and it´s a personal choice to believe it or not. But it is clear that the strong connection the farmer feels with the land during this process is extremely important to him and her.

Something that struck us is the enormous knowledge you need as a farmer, such as how to manage the coordination of a huge variety of vegetables and other plants, but also how to administer the business from an economic perspective. It´s incredible how our society doesn´t value farmers more highly for their skills and recognize the enormous contribution they make to the community.

Working at Querbeet was an amazing experience and extremely enriching. We got a better insight into farming techniques, especially into biodynamic agriculture. Most people have very little knowledge of how their food is produced, and we think that everyone should be more engaged in this.  Observing the global system, it is more and more clear that we need alternatives to industrial agriculture; and biodynamic farming is one of the ways toward a sustainable future, providing environmental, social and physical safety.
Weinmanufaktur Burkhart
Burkhart Winery was the last of these excursions on the 11th of August 2015 for "The Future of Food Sustainability" Summer University. Somehow it was as if the three of us, Julie, Arsa and Lisa, knew that it would be the one organisation we would end up choosing to work with. Our group project involved making a few trips to the winery where we learned about the culture and philosophy behind this inimitable wine. The man behind "Weinmanufaktur Mario J. Burkhart" is none other than the sole proprietor himself, Mario Josef Burkhart. Mr Burkhart grew up on a vinyard where his parents entered the wine-making industry in the 70s, producing organic wine. His immediate family members are equally engaged in the secondary stage of production, with his mother being the owner of a bakery whilst his brother is a coffee dealer. Similarly, his other brother is also a wine producer and the future might see them merging their businesses. Mr Burkhart exudes the genuine passion of making wine and one can easily sense that as he conveys his life story in relation to wine production. Established in 2002, his vinyards cover a total area of 1.2 hectares. He currently rents property in a town called Malterdingen where he carries out the fermentation process, packaging and labeling of the wine bottles.

The wine cellar consists of numerous oak barrels and fermentation tanks, as well as various machines which filter the wine and fill the wine bottles. It is intriguing how he brings the best of both worlds by combining the French Burgundian and German wine manufacturing methods. He believes this fashion of wine production yields a wine of superior quality. On the same note, since a lot of the work input is of his own labour, this adds to the 'hand-made' quality of the finished product. That includes for instance the traditional hand press Mr. Burkhart uses. In as much as he oversees the whole wine making process, he also takes part, just as much if not a little bit more.

He only hires seasonal workers to help him during the harvesting season because he wants the process to be as hands-on as possible. When we went to the Burkhardt Winery we had a bunch of questions we wanted to ask him, especially what determines a good wine. We learned, by talking to Mr. Burkhart, that the wine fields need a lot of caring from the vintner over the whole year and the end the vintner's skills are very important. By leading us through his yards Mr. Burkhart showed us different grapes and taught us about techniques to produce fruity, tasty grapes. We also went over the fermentation process.

For sure it was not possible for us to understand all the details of producing wine; nevertheless, that was not our task. What we got is an overview on wine making with interesting insights into why handicraft work creates a high and special quality. We found out that this quality is only affordable for a higher classed target group. Moreover we put a focus on understanding why Mr. Burkhart treats his yards in a "nearly organic" way, as he calls it. By discussing the roles of organic certification within the group we tried to frame arguments pro and con, especially for a small business. In the future Julie would love to see the business converting into a total organic production; however, all of us can understand that being certified is not the only aspect of a high quality final product. Within the whole group of students and professors we tested different types and vintages of the Burkhart wine and assessed them to taste fruity in a well-rounded manner. Another interesting discussion we had was about wine and its status as a luxury good in our society.

Since all of us grew up in different backgrounds, we have very different cultural practices. For instance the people of Swaziland do not include wine in a festive occasion; whereas in Brandenburg, Christmas would always include a "good glass of wine" within the family. After visiting Mr. Burkhart's vinyard we were curious to attend the "Emmendinger Weinfest" to see how wine culture is practised in the region. The two of us that are not German got their very first impressions of winemaking ever. Albania does not have a very developed wine industry, although people enjoy consuming it on special occasions. In Swaziland there is no wine industry at all, so the country depends on imports.

Getting to know Mr. Burkhart as a passionate winemaker was really interesting for us. It was surprising but also understandable that he has no interest in having more workers and being busier. Knowing that wine production is not his first job helped us to understand this facts.

To sum up we made a mind map to illustrate the different aspects of sustainability within this particular winery business. Remaining a small business and keeping on producing a very high quality are the future goals of Mr. Burkhart. He proudly states the "Bekömmlichkeit" of his wine, referring to quality. After a few meetings with Mr. Burkhart we understood the difficulties of producing a total organic product and why it is important to understand the whole philosophy before you start to evaluate.

One thing we have learned for life is that "The best wine is made from the smallest berries."